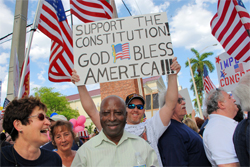 Attorney Devon M. Jacob is a former police officer, who defended law enforcement for 10 years, before he began to advocate on behalf of Plaintiffs whose civil rights have been violated.  Since Jacob Litigation is a national law firm, Attorney Jacob is able to be highly selective in his clientele, which permits him to represent Plaintiffs only in the most egregious of cases.  These cases usually involve police officers or correctional officers who have unlawfully caused persons to suffer serious injuries and/or death.  Such cases are usually asserted in federal court, pursuant to 42 U.S.C. 1983, to prosecute violations of the Fourth or Eighth Amendments to the U.S. Federal Constitution.  Because these cases are litigated in federal court, and not in state court, Attorney Jacob does not need to be admitted to practice law in the state where the civil rights violation occurred.  Rather, because Attorney Jacob is admitted in good standing to practice law in the Commonwealth of Pennsylvania and in numerous federal district courts in numerous other states, Attorney Jacob is generally able to obtain special admission (pro hac vice) to prosecute any civil rights case in any federal court in any state. Therefore, if a loved one or you have suffered a serious injury or death during a police or prison incident, please contact Attorney Devon M. Jacob, at Jacob Litigation: 717.796.7733 or information@jacoblitigation.com.
Section 1983 of the Civil Rights Act: "Every person who, under color of any statute, ordinance, regulation, custom, or usage, of any State or Territory or the District of Columbia, subjects, or causes to be subjected, any citizen of the United States or other person within the jurisdiction thereof to the deprivation of any rights, privileges, or immunities secured by the Constitution and laws, shall be liable to the party injured[.]"
Fourth Amendment to the Federal Constitution: "The right of the people to be secure in their persons, houses, papers, and effects, against unreasonable searches and seizures, shall not be violated, and no Warrants shall issue, but upon probable cause, supported by Oath or affirmation, and particularly describing the place to be searched, and the persons or things to be seized." USCA Const Amend. IV.  Violations of the Fourth Amendment often arise in connection with police officer activities such as arrests, searches, seizures, and the use of force.
Eighth Amendment to the Federal Constitution: "Excessive bail shall not be required, nor excessive fines imposed, nor cruel and unusual punishments inflicted." Violations of the Eighth Amendment often arise in jails and prisons in connection with correctional officer activities such as conditions of confinement, searches, seizures, and the use of force.